Parent Category: Product News
Category: MICROCHIP Articles
Published on Thursday, 19 April 2012 04:15
Written by Super User
Hits: 157
New energy standards for blade servers, high-performance notebook computers, game consoles, and point of load (the new system of point-of-load) module specifications, are driving the industry more efficient, more current, higher switching frequency and morehigh-power density requirements. In order to meet industry trends, Fairchild Semiconductor, Fairchild Semiconductor developed FDMF68xx Gen III DrMOS multi-chip module (MCM).

FDMF68xx series has been designed to reduce the amount of output sense and reduce the number of output capacitors, compared with ordinary discrete solutions, the series can save up to 50% board space and improve efficiency in order to meet new energy standards. Fairchild's high-performance a PowerTrench ® MOSFET technology, FDMF68xx Series can significantly reduce the switching ring (switch ringing), eliminating the need for most of the buck converter device applications using the buffer circuit.

Gen III of the DrMOS MCM series digital and analog PWM controller can support 3.3V and 5V tri-state PWM input voltage, 30V device option is the DrMOS be able to adapt to the requirements the notebook computer or UltraBookTM of power system. Gen III the DrMOS series to provide higher efficiency than 1MHz switching frequency, the higher the maximum load current and power density, these devices 6x6mm2 PQFN package, able to achieve efficiency standards requirements and provide per phase up to 60A.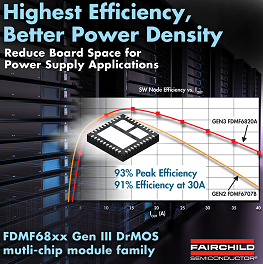 Features and benefits
· Peak efficiency of 93%; 30A efficiency up to 91%; 500KHz frequency, 12VIN, 1VOUT
· Peak efficiency of 90%; 30A efficiency up to 88%; 1MHz 12VIN, 1VOUT
· Large current handling capability: 60A when the junction temperature of 100 ° C
Able to achieve a 1.5MHz switching frequency
· Eliminating the typical design of the radiator
Fairchild Genernation III DrMOS family of devices offer industry-leading technologies to address energy efficiency and Dimensions challenges encountered by the modern design. Genernation III DrMOS device is the Fairchild energy-efficient power analog, power discrete and optoelectronic part of the solution, to achieve maximum energy saving in power sensitive applications.